May 18, 2019
May 03, 2019
From The Palette of Awe at Adjacent To Life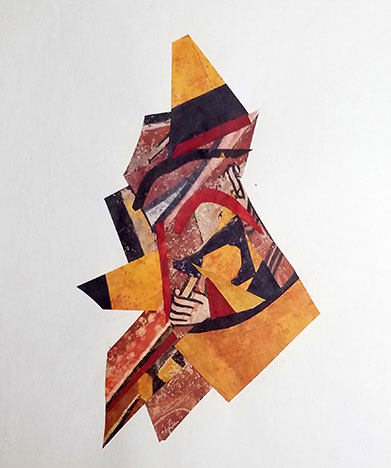 Tinsquo's curatorial project, Adjacent To Life, presents From the Palette of Awe: Collages by Daniel De Raey.
Daniel De Raey's ongoing series, The Spanish Papers finds its originating moment when the artist was unexpectedly delivered to the Romanesque galleries of the Museu Nacional D'Art De Catalunya. In the presence of Medieval masterpieces drawn from chapels throughout the Catalonian countyside he became rapt. It wasn't the religious intent, formal composition or representational sophistication that held his fascination, rather it was the details – small passages and chips of paint, minute confluences of color and texture. He spent an afternoon fully absorbed, taking hundreds of photos of such details.
It was an event that had no precedent in De Raey's experience and one that would not be repeated until years later when he finally revisited the images from that singular afternoon and began to make collages from the resultant prints.
As he constructed the collages he was astonished to realize it was impossible to make a mistake in terms of color composition. Color-wise any component from any photograph could compellingly co-exist with any other. Again he was rapt.
This prompts the tantalizing question: What is the through-line connecting the Romanesque artists, De Raey's transfixed afternoon in Barcelona, and the present collages?
After long contemplation the artist concluded that it is the experience of awe. Because De Raey wasn't invested in the cultural content or stylistic intent of the art objects - but instead focused on the hand of its makers and the wear of the world upon the works - he tapped into the unfiltered earnest reveries of the original craftspeople. Thereby unwittingly verifying that awe is tangible and transmittable across the centuries.
A long time resident of the East Village, Daniel De Raey is a photographer, mixed media collage artist and an active member of The Art Students League of New York,. A work from The Spanish Papers was awarded best in show at the League's 2018 Concours show. Another work from the series earned the artist a 2018 merit scholarship at the League.
From the Palette of Awe runs through June 7 and is on view at the Adjacent to Life pop-up gallery housed in Ninth Street Espresso (341 E. 10th Street at Ave B, New York City).
May 01, 2019
April 29, 2019
April 26, 2019
April 18, 2019
April 14, 2019
April 11, 2019
March 30, 2019
March 16, 2019
March 05, 2019
March 01, 2019
February 28, 2019
February 25, 2019
February 18, 2019