July 20, 2019
July 11, 2019
The Walk at Adjacent To Life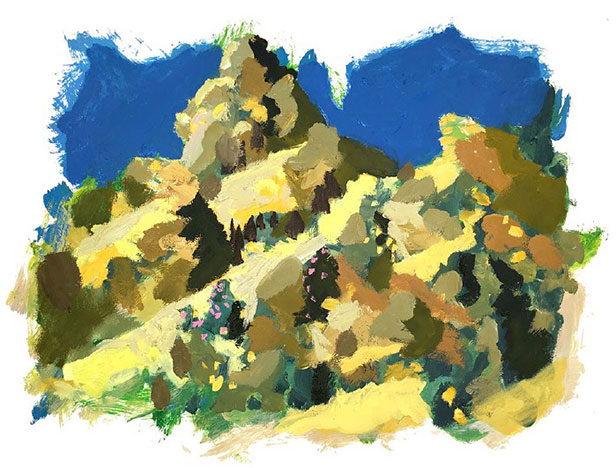 Tinsquo's curatorial project, Adjacent To Life, presents The Walk: Paintings by Ray Sumser.
Ray Sumser's latest body of work is a rapturous experiential account of the California landscape. Painted in bursts in the artist's Larkspur studio, The Walk consists of 47 oil paintings informed by the hills of the Golden Gate National Recreation Area and Mount Tamalpais State Park.
In these works, the artist furthers his exploration of the agency of the brushstroke while affirming his abiding interest in the gestural mark as a vessel of information.
In earlier iterations of these concerns, Sumser personified his brushstrokes into recognizable comic characters. Together these marks in the form of cartoon personas comprised teeming visual encyclopedias of the popular animation landscape. This fractal compositional strategy – where scrutiny of the minute yields expansive returns – subsequently evolved into more abstract assemblages of brushstrokes that evoked emergent body parts – many graced with eyes staring back at the viewer as if to draw equivalence between the seer and the seen.
In The Walk, Sumser vastly expands the carrying capacity of his brushstrokes.
Working in concert with one another to cohere into a legible macro vista, each stroke is independently redolent of the experience of moving through the landscape.
Sumser's brushstrokes now operate as a transcription of an observer's immersive experience, each reveling in the landscape's particular vantages, character, form, fellow beings and sun-suffused atmosphere – all while simultaneously transmitting the charged moment of creation in the painter's studio life.
The artist puts it this way:
"Perspective changes constantly. A landscape appears one way and is altogether different in closer relief. Never static, it moves with color and emotion, light and rhythm. The landscape accommodates and shapes the imagination with an abundance of information all pointing to beauty."
The Walk is on view through August 16 at the Adjacent to Life pop-up gallery housed in Ninth Street Espresso (341 E. 10th Street at Ave B, New York City). There will be a reception for the artist on Friday, July 12, 7-9 pm.
July 01, 2019
June 27, 2019
June 24, 2019
June 22, 2019
June 18, 2019
June 14, 2019
June 11, 2019
June 08, 2019
June 04, 2019
June 01, 2019
May 29, 2019
May 28, 2019
May 26, 2019
May 18, 2019
May 03, 2019
May 01, 2019
April 29, 2019
April 26, 2019