March 01, 2019
February 28, 2019
February 25, 2019
Order of Things at Adjacent To Life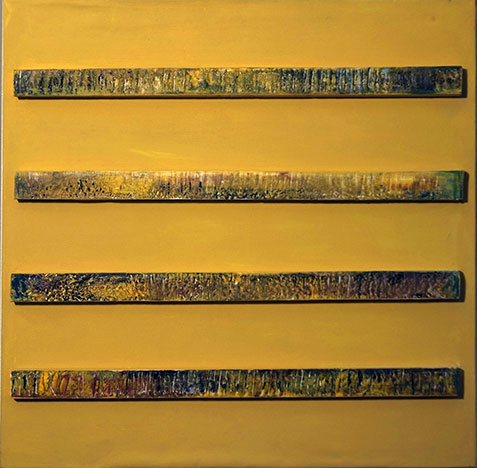 Tinsquo's curatorial project, Adjacent To Life, presents Order of Things paintings by Johanna Okovic Goodman.
The encaustic paintings of Johanna Okovic Goodman's Order of Things series represent a concluding synthesis of the fascinations and concerns of her long career. Compelled by the essential nature of human touch, she arrived at the wax medium for its capacity to memorialize the transience of touch by retaining the mark of its maker.
For Okovic Goodman, this abiding advocacy of the primacy of touch extends to the magnificence of the natural world and its inhabitants. In this formulation our respective life experiences might be thought of as having been molded by the touch of the world.
An inveterate traveler, Johanna threw herself into the world as a means to tutor her senses – often seeking vast, open landscapes. A formative instance was her tenure living with the Zayanes, a Berber population living in Morocco. There she learned that art is a way of life and came to feel at home with their architectural forms and the desert expanse.
A unification of open space and architectural forms situated in a manner that creates a language that "speaks to the essence of touch" defines the Order of Things series.
Johanna Okovic Goodman passed away in 2017. Born in Pittsburg, she eventually relocated to the desert of the American Southwest. She attended The Carnegie Institute of Art and received a BFA from Moore College of Art. Her greatest acclaim came through her sculpture, most notably her signature chairs which were created in the form of famous people. This culminated in a commission from the Tyson Foods family for a chair sculpture of President Bill Clinton that currently resides in the Smithsonian National Portrait Gallery.
Order of Things runs through March 29 and is on view at the Adjacent to Life pop-up gallery housed in Ninth Street Espresso (341 E. 10th Street at Ave B, New York City). There will be a reception Thursday, March 14, 6:00-9:00 pm.
February 18, 2019
February 11, 2019
February 06, 2019
February 01, 2019
January 27, 2019
January 22, 2019
January 19, 2019
January 15, 2019
January 10, 2019
January 05, 2019
January 01, 2019
December 31, 2018
December 25, 2018
December 19, 2018
December 17, 2018
December 08, 2018