Landscapes at Adjacent To Life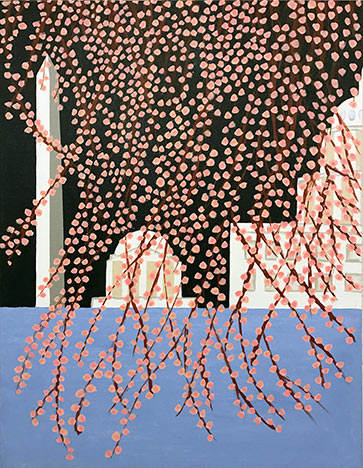 Tinsquo's curatorial project, Adjacent To Life, presents Landscapes: Paintings by Mubarak Nasser Al-Thani.
Mubarak Nasser Al-Thani is a Doha-born Qatari painter. For the last few years he has resided in New York City while he completed an MA in Urban Planning at NYU.
Inspired by cities, skylines, horizons, people and their interaction, Mubarak was first introduced to the American landscape via the Roadrunner cartoons. Ever since, the country – its people and landscape – has suffused his imagination.
During his tenure in the U.S., he made efforts to explore, taking road trips to visit iconic locations and to delve into the expanse of the land. In some ways, he became an aficionado of the best aspects of America, an enthralled enthusiast, especially appreciating "the balance between the vastness and emptiness and its crowdedness." He states, "I think America is under appreciated in terms of its beauty … and it's diverse as %$@#!"
The paintings in this exhibit are, what might be thought of as, personalized distillations of American icons. In their graphic attentiveness and focus on brilliant, carefully-calibrated color combinations, the works are reflective of his ongoing formal concerns and predilections. In this way, he contributes an individualized vision to images collectively valued, thereby enacting a hard-won and, at times, besieged American ideal.
Landscapes: Paintings by Mubarak Nasser Al-Thani runs through August 18 and is on view at the Adjacent to Life pop-up gallery housed in Ninth Street Espresso (341 E. 10th Street at Ave B, New York City).
Posted by Mark Roth at
11:00 PM