Process Post: Recycling Pop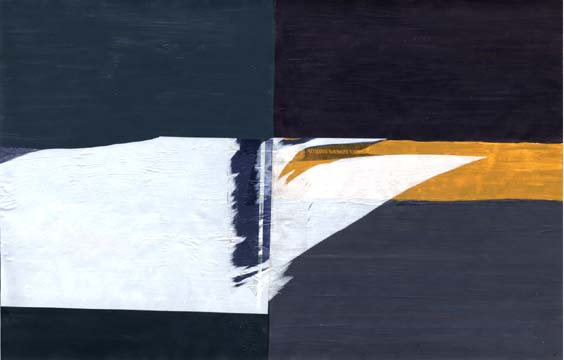 Since 1999, I've been building and rebuilding a soda bottle ziggurat above my kitchen sink.
The recycling bins for the tenement building in which I reside provide a real-time archeological survey immediately outside my apartment door. Every time I emerge from my abode, I am greeted with a trove of nominally recyclable refuse. Sometimes, egress is impaired by these discarded scraps of what consumer culture can't consume.
This bevy of abandoned raw material-at-the-ready is compelling for an artist/scavenger. The objects bear an aura of authenticity that comes from the absence of any presumptive claim of value – save for the street industrialists who ply in the refund trade.
I wonder if we will be known to future peoples by the objects preserved in our museums or the objects preserved in our landfills? Perhaps the distinction won't hold. Will petroleum bottles – currently invisible on account of their ubiquity - be the defining pottery of our epoch?
My recycling bin "dig" began in a fit of pre-millennial fever when "magazine paintings" – like "custodian weave" – arose from a practice of using reclaimed magazine pages as a painting support. Liberating me from any stricture of perceived scarcity, these pre-printed pages presented a populated tabula rasa as the iconic "blank canvas" - a nod to neutralizing media overload through will and focus.
From such a perspective, two-liter plastic soda bottles also proved a fecund artmaking resource. In peeling off the plastic label I discovered the glue strip would resist, tearing in unpredictable, strangely graceful ways. The sharp line of the tear was like a Matisse cut-out born of chance akin to that of a Duchamp stoppage.
When glued onto color field paintings, these torn shapes were an inversion of the magazine paintings' populated tabula rasa – here, it is the line that is populated with mercantile ephemera. In sum, this way of working yielded a complex visual image with minimal apparent effort, using the means available.
So seven years ago, I made a sketchbook series. I learned the nuances of different brands and the secret of "aging" bottles – weakened adhesive affects each label's tear the greater the distance from its bottle's vintage.
Tearing the label from its bottle proved meditatively integral to the composition process, so instead of merely accumulating torn labels I began stockpiling entire scavenged bottles – storing them "in-house" – atop the kitchen cabinets, eventually constructing an installation that reached to the ceiling and topped out at just under a hundred bottles. When Mayor Bloomberg halted (temporarily) much of the NYC recycling program, this pop bottle ziggurat assumed treasure status.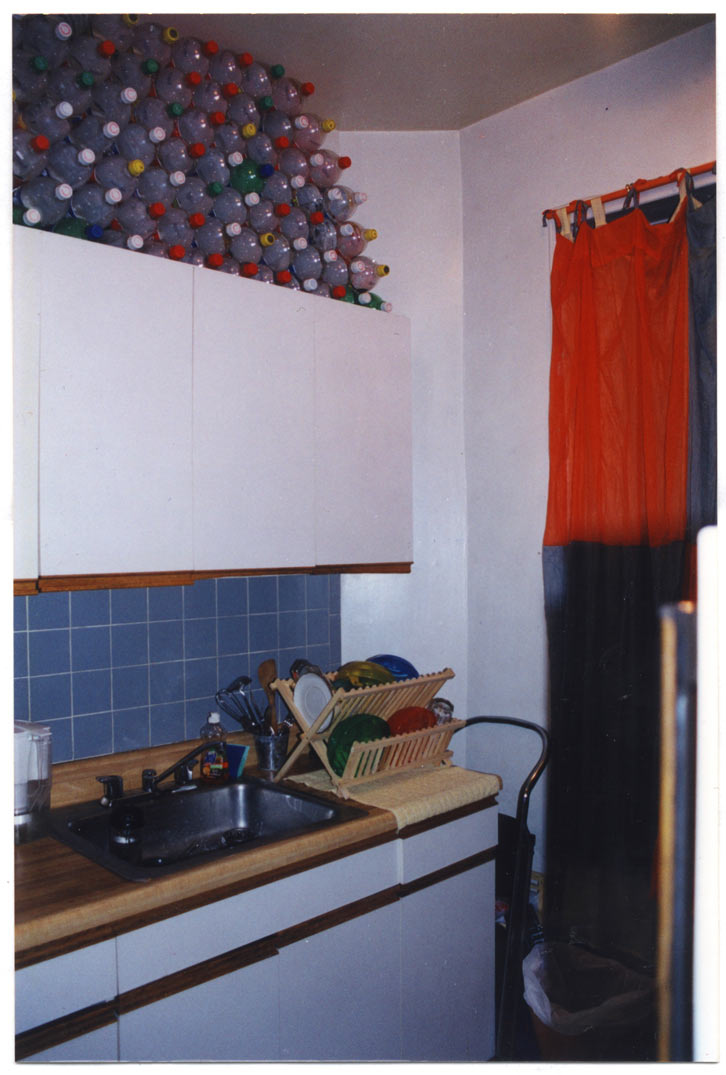 Then, as can happen, life intervened; time passed with no second series. Roped into place, the plastic bottle structure was an ever beckoning makeshift barometer - popping and groaning each time the radiator kicked on or the oven was in use.
At times the expanding bottles exerted so much pressure that they would break their bonds and fly, falling around the kitchen in a petroleum-laced avalanche. But I always rebuilt the ziggurat, knowing someday I would return to them.
Today is someday. I no longer value being a custodian of taunting potentiality. What will follow for the next few weeks are the chronological results of making this the right time to work through each vintage of my pop holdings.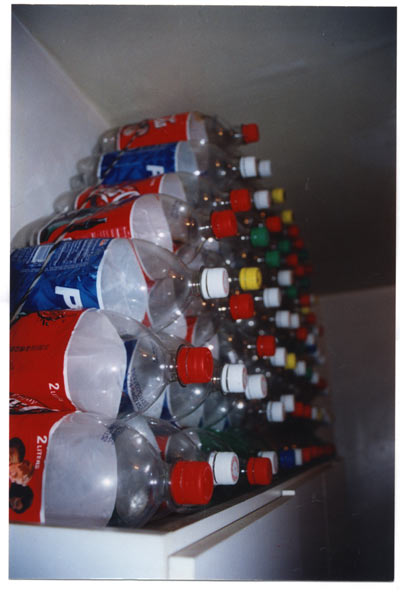 Posted by mark at December 2, 2006 03:42 PM