"grace under pleasure"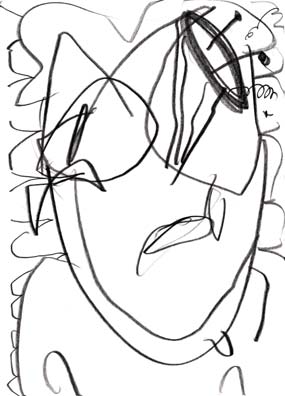 graphite on paper
Tool's fidelity to the waning format of the compact disc has pushed them to the top of the Billboard chart, according to the NY Times. Opting out of the iTunes singles format for downloading, the band intends fans to perceive their cds as protracted works - each song contributing to an arc of expression and internal logic that culminates with the last track. Quite different than the atomized experience of a stand-alone mp3.
Neil Young's new work does the same for the long-play form but with a twist. Far from restricting access, Young's made his entire cd, Living With War, available for online listening... free. (Scroll. Look for "Listen to Living With War FREE). The only "price" you have to pay is one of attention. You're obliged to listen to the recording in its composed order.
Tool and Young are advocates for the bygone pleasures of committed listening, implying that said may be a salve to the synaptic sound bites of our daily dose of media. It's retro-visionary and, after listening all the way through, rewarding.
Posted by mark at
03:22 AM