Notes and Chords at Adjacent To Life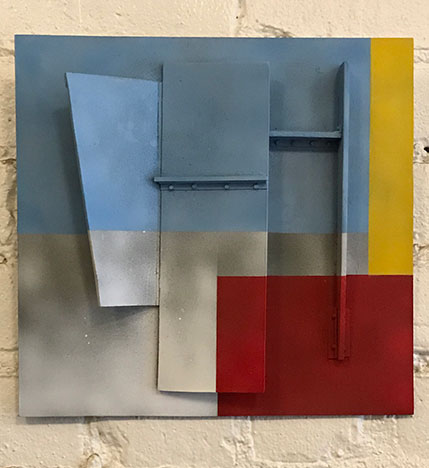 Tinsquo's curatorial project, Adjacent To Life, presents Notes and Chords by Peter Stankiewicz.
The show finds sculptor Peter Stankiewicz returning to painting after a hiatus from the medium and debuting his first sculptural reliefs. Composed of plastic airbrushed with acrylic paint, the works derive initial inspiration in the dazzle patterns deployed on ships during World War I.
Stankiewicz states:
"As I worked I ended up liking simpler designs with just a few blocks of color. Some of them began to look to me like piano keys, and I started to think of the idea of just a few notes or a chord sounding over a quiet background. I think the hard geometric edges of the shapes help emphasize the quality of the colors, leaving only simple proportions and a little paint texture as the other elements involved."
Notes and Chords runs through March 2 and is on view at the Adjacent to Life pop-up gallery housed in Ninth Street Espresso (341 E. 10th Street at Ave B, New York City).

Posted by Mark Roth at
12:38 AM