Fertile Soil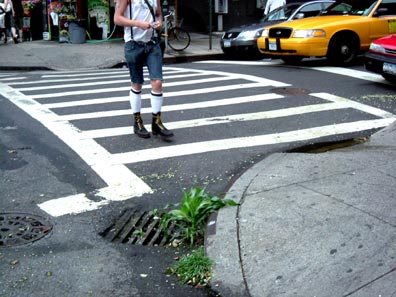 A young stalk of corn has taken root in a sewer grate at East 4th and 1st Ave. Perhaps it is a heroic case of volunteer corn - an ancient residue from the pastoral past of Manhattan.
While it's too late to be "knee high by the 4th of July," denizens of our village are doing what they can to help this welcome misfit survive: On occasion, a newspaper rack is strategically placed to redirect unwitting pedestrians around the nascent crop.
This defiant grass, the loving reception it has received and its odd yet natural rooting in the urban environment puts me in mind of Agnes Denes and the two acre wheatfield she planted on the landfill that was to become Battery Park City. That particular field was harvested 24 years ago this month - but its compelling possibility springs forth everywhere - even from trash clogged gutters in the East Village.
Posted by mark at
01:54 PM