Birds and Babes at Adjacent To Life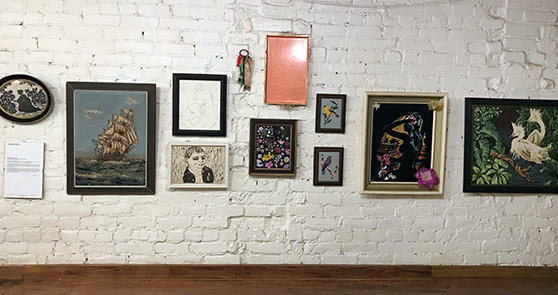 Tinsquo's curatorial project, Adjacent To Life, presents Birds and Babes: The Curation and Collection of Jhovana Samano.
Jhovana Samano's artistry resides in her aesthetic and cultural appreciation. She is an archivist and champion for marginalized and archaic modes of expression and design.
Scouring thrift shops, street markets and Ebay she rescues objects of uncanny beauty or strangeness, delving deep into the various mediums that at any given time fascinate her: needlepoint, silhouettes, paint-by-numbers, pin-ups, velvet paintings, figure drawings, skeleton keys, mid-century serving platters and cut glass.
As an ecosystem of objects, she thinks in terms of groups and likes to have things match. "Things have to get along," she states. The impulse derives from an assertive sense of inclusion and indicates the progressive thrust underpinning her project – as she says, she endeavors to "go out of my way to mix and match patterns because it proves they can get along together." Her work verifies that difference and chaos can harmonize.
Birds and Babes: The Curation and Collection of Jhovana Samano runs through March 24 and is on view at the Adjacent to Life pop-up gallery housed in Ninth Street Espresso (341 E. 10th Street at Ave B, New York City).
Posted by Mark Roth at
12:54 PM