Pocket Retrospective at Adjacent To Life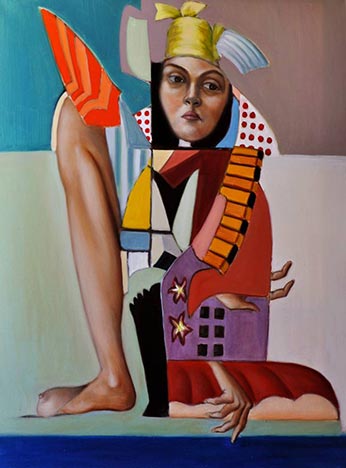 Tinsquo's curatorial project, Adjacent To Life, presents Pocket Retrospective: The Postcards of James Himber's Legascenic View.
For years the Ninth Street Espresso on 9th and Ave C served as a second studio for painter James Himber. An iconic, beloved and modest presence, most days he could be found ensconced at the corner table painting watercolors, sketching or working his way through John Richardson's multivolume Picasso biography.
The intensity of his focus was palpable – as though Painting for him was a matter of life and death. Sadly this literally was the case. His adoption of Ninth Street as a second studio was the result of a terminal medical diagnosis and the consequent commitment to use his remaining life energy in the service of Painting. For five years he toiled with death as a rapidly advancing certainty.
On June 21st last year he passed away.
From a formal painting perspective, his work explores the vexing fluidity of the line between abstraction and naturalistic depiction. Seated in symbolic and/or surrealistic narratives, his subject matter is that of a freewheeling revelation of psychological dilemmas that endeavor to place himself and the viewer in a challenging, often discomfiting position. James put it this way: "Art is where intellectualism ends and emotionalism begins."
At one point, as part of his art practice - and life's assessment - he began printing postcards of his paintings. He would carry this collection with him – a retrospective companion, a measure of progress and documentation of a life's investment.
This show presents some of those postcards.
In the final year of his life his work was recognized and actively championed by Saatchi Art Online. As such, a good bit of his final life force was spent deaccessioning scores of paintings from his studio to points all around the globe. He considered this concluding act of aesthetic disbursement to be his painting legacy.
He is missed.
Pocket Retrospective: The Postcards of James Himber's Legascenic View runs through July 17 and is on view at the Adjacent to Life pop-up gallery housed in Ninth Street Espresso (341 E. 10th Street at Ave B, New York City).
image: James Himber, Woman in Red Dress and Polka Dot Scarf, oil on canvas, 48" x 38"
Posted by Mark Roth at June 21, 2015 06:12 PM