New Project: Adjacent to Life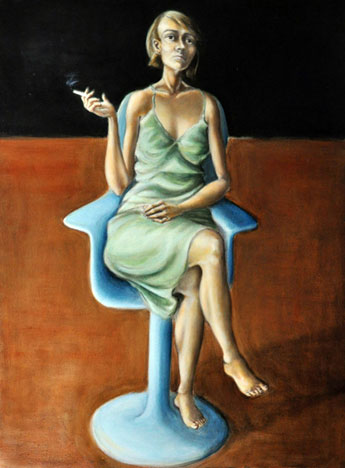 James Himber, The Blue Chair, oil on canvas, 40" x 30"
TINSQUO is moving beyond the digital screen to a space adjacent to Life. In fact, that's what it's called and it begins now!
Adjacent to Life: a curatorial project of TINSQUO.com launches today. The "freaky sad" paintings of James Himber inaugurate the proceedings.
His exhibit, Existential Shipwrecks, portrays castoffs and waifs - misfits struggling to locate their place in the world and on the canvas.
The show resides at Ninth Street Espresso (341 East 10th Street at Ave B - "10-B" for regulars). Drop by for some intense espresso with art to match. It's on view through February 9.
For more on James' work and the curatorial project visit Adjacent to Life, the blog ("follow' and 'like' us on Tumblr).
Posted by mark at December 24, 2011 02:18 AM