You Want It - You Got It at Adjacent to Life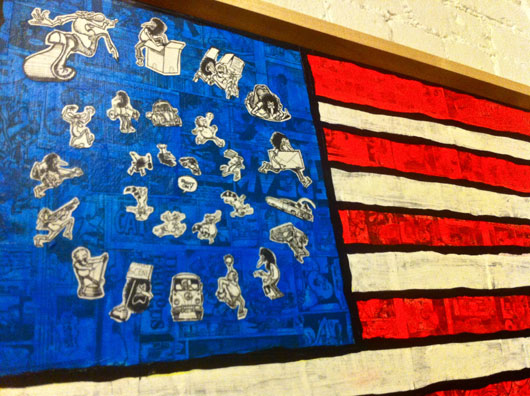 Tinsquo's curatorial project, Adjacent to Life, presents You Want It - You Got It: Magic Paintings by John Tebeau.
With You Want It, You Got It, Tebeau highlights the particular universal truths that make certain pop culture icons immortal. Executed in a style that honors their popular origin, he constructs these paintings to function as transformative assistants, where the viewer may welcome the "magic" represented in each icon into their own life.
The show runs through December 6 at Adjacent to Life's current pop-up gallery, housed in Ninth Street Espresso (341 E. 10th Street at Ave B).
image: John Tebeau, Freak Flag! detail, 16" x 20" acrylic and collage on canvas. Photo: Janna Olson
Posted by Mark Roth at November 7, 2013 12:54 AM