Addressing de Kooning - Update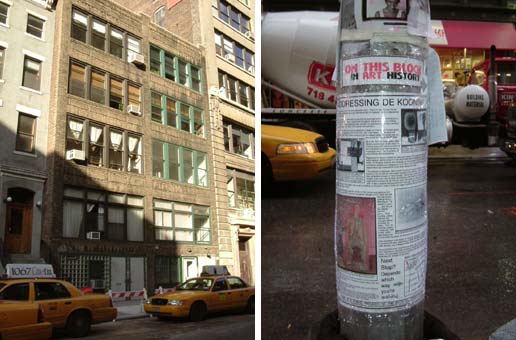 In the 1930s de Kooning had a studio at 145, then 143 W. 21st St., Addressing de Kooning poster in situ.
TINSQUO's Fall street installation Addressing de Kooning has a new addition, a prequel. During the WPA's Federal Arts Project years of the mid-1930s, it turns out de Kooning shared the block with what is now the School of Visual Art's West Side Building on W. 21st Street.
While in that studio, he did what many an SVA student has done or will do on that very block - he declared himself an artist: "...it was really more of a psychological attitude: that it was better to say No, I'm an artist. I have to do something on the side to make a living...it was a much better state of mind."
So, now there's a new reason to continue your stroll back in time - from the East Village studios of an AbEx giant to the humble Chelsea lofts of a mere beginner. If you are unable to stroll the self-guided Addressing de Kooning walking tour, you can always take a virtual promenade via the PDFs below:
143 W. 21nd Street
156 W. 22nd Street
85 4th Avenue
88 E. 10th Street
831 Broadway
Posted by mark at October 11, 2006 06:29 PM