Otis March at Adjacent To Life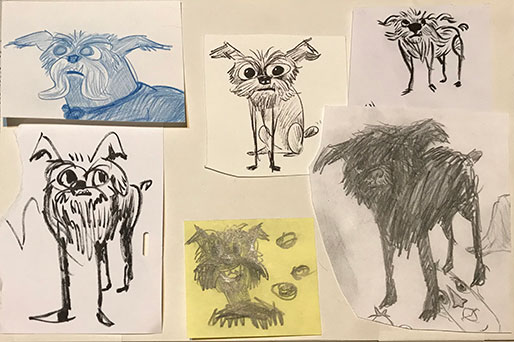 Tinsquo's curatorial project, Adjacent To Life, presents Otis March: Drawings by Mark Minnig.
Otis March is animator Mark Minnig's friend, companion, muse and dog. Art has always been an important part of their interaction. In the ongoing creative collaboration Otis has contributed as muse – an active instigator of artmaking.
These sketches represent a small fraction of the drawings Otis has inspired. Integrated into life and Mark's various modes of production, the drawings are a revelation of an artist's process, representing a development of vocabulary, contemplative focus, a refinement of skills of observation … and affection.
A longtime New Yorker by way of Baltimore, Mark Minnig played in the bands Kid Casanova, The Thumbs and The Fuses. He is currently working towards an MFA in Computer Arts at SVA. Otis can frequently be spotted exploring the East Village and has inspired his own popular hashtag: #otismarch.
Otis March: Drawings by Mark Minnig runs through December 8 and is on view at the Adjacent to Life pop-up gallery housed in Ninth Street Espresso (341 E. 10th Street at Ave B, New York City).
Posted by Mark Roth at October 27, 2017 07:08 PM