Tumbleweeds at The Phatory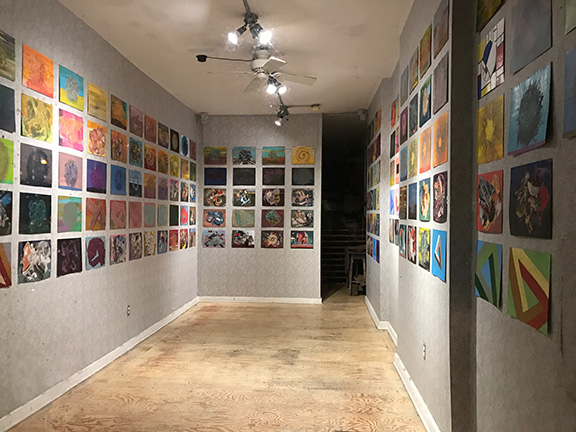 From the gallery press release:
The Phatory is pleased to present Tumbleweeds an installation of works by Mark Roth. The exhibition opens March 18th and will run through April 15th, with an artist reception held on Saturday, March 18, between 6 and 8:00 p.m.
The Tumbleweed – or Russian Thistle – is an immigrant from Eurasia. It initially hopped a ride in a flax seed shipment to South Dakota in 1877 and proceeded to become an essential symbol of the American West. In an exploration of the tumbleweed as an icon, metaphor and dynamic formal structure, Roth fills the gallery with 147 paintings that find the diaspore bounding along multiple lines of flight. Representing a four-year painterly inquiry and narrative, the tumbleweeds roll through Modernism with spinning vortexes exploring collage, compositional concerns, megafaunal extinction, cave painting, nostalgia, structural collapse and the enchantment of the natural world.
A graduate of The School of the Art Institute of Chicago, Roth currently has an augmented reality installation, Missing The Megafauna, situated at the Metropolitan Museum of Art. His previous series Grazer's Gaze: The Grass Paintings has been published in the University of Oxford's Angelaki: Journal of Theoretical Humanities.

Posted by Mark Roth at March 18, 2017 07:01 PM