Black Moby Dick & 9 Untitled at Adjacent To Life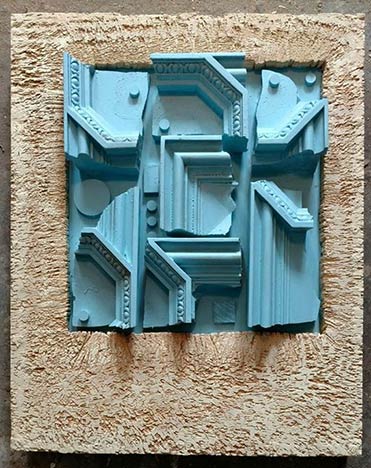 Tinsquo's curatorial project, Adjacent To Life, presents Black Moby Dick & 9 Untitled: The Wall Sculptures/Assemblages of Damien Olsen.
Damien Olsen scavenges industrial ephemera and subjects the objects to transformations that "detach them from their meaning" and give them a new purpose. Often appearing as ruins or a "glamorizing of aging," the works embody the geological process of reintegration of the specific into the whole, presenting decay as a generative process.
Rooted in the free-associative strategies of the Surrealists and Abstract Expressionists, Olsen finds particular humor and challenge in the indeterminacy of their approach. He says, "my own art makes me laugh and it can torture me because I don't know what I'm looking at."
In the spirit of unedited transmission, following are a few choice quotes from a recent studio visit:
"I don't like the idea of imitating nature, but we are nature. We are nature and the nature that we produce is art. It's important for me to make acts of animality, things of which only nature is capable."

"It takes a lifetime to get rid of how you've learned to draw and paint - to make work like an animal commanding you from a place of silence."

"The boxes are like houses for objects. They turn owners if they can survive the claustrophobia of being in a box. They become the master of the house."

"Louise Nevelson is my artistic grandmother and Max Ernst is my grandfather. So then the question is who are my parents. I don't know. I think I'm an orphan."
Black Moby Dick & 9 Untitled runs through June 9 and is on view at the Adjacent to Life pop-up gallery housed in Ninth Street Espresso (341 E. 10th Street at Ave B, New York City). There will be a reception for the artist Friday May 12, 6-8 pm.
Posted by Mark Roth at May 6, 2017 02:18 AM