2017 Drawings at Adjacent To Life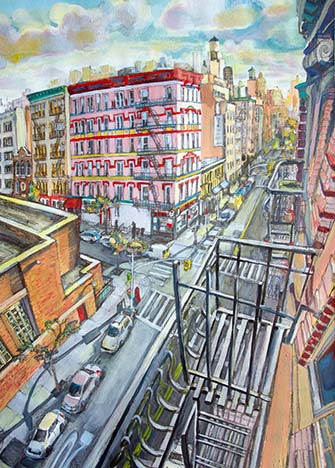 Tinsquo's curatorial project, Adjacent To Life, presents 2017 Drawings by Anselm Dästner.
East Village artist Anselm Dästner perambulates and paints, capturing and rearranging neighborhood landmarks and events that speak to his role as an observer of the urban fabric and a father in that context.
He states:
"I have always been drawing while traveling, and while my daughter was a baby I found myself walking around the Lower East Side with a baby sling. In it she was taking afternoon naps and I continued drawing the street corners that we passed. At night I would continue to color the drawings with watercolor and acrylics."
2017 Drawings runs through April 30 and is on view at the Adjacent to Life pop-up gallery housed in Ninth Street Espresso (341 E. 10th Street at Ave B, New York City).
Posted by Mark Roth at March 25, 2017 03:26 AM