CatArt: Feline Aesthetic Ethology at Adjacent To Life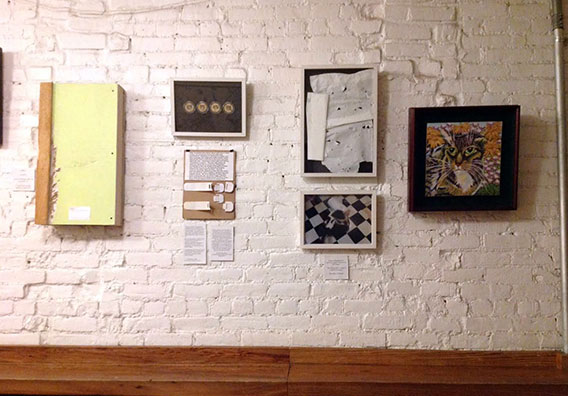 Tinsquo's curatorial project, Adjacent To Life, presents CatArt: Feline Aesthetic Ethology.
Artists: Carolee Schneemann, Kitch, Vesper, La Nina, Rose McShane, Katkin Siobhan Meow, Jupiter "Joe Peters" Meow, Sir Kiwi Bristlewhiskers Meow, Knuckles Brohain Suzdal Meow, Cat, Ezmerelda, Mimi, Raul, Prima, Duetta, Quattrina, Cinquella, Chase Chivers, Samoa Moriki
Curation and Artistic Design: Ananya Mukherjea, Jeffrey Bussolini, Mark Roth, Al Huckabee, Ellie Irons, Siobhan Meow, Lissette Olivares
CatArt: Feline Aesthetic Ethology presents art made by felines - art fashioned in their singular idiom, reflecting their particular concerns and pleasures. This highlighting of cats engaged in the exploration and manipulation of materials challenges the notion that art-making is a uniquely human activity and intimates that human art-making found its genesis in the observation and imitation of animal behavior and enthusiasms.
This area of investigation, here newly coined Aesthetic Ethology, is in dialogue with Post-Humanism – a reappraising movement in philosophy that seeks to decenter the human and embrace the agency of other beings, systems and forms – and Ethology – the science of animal behavior. The installation's accompanying texts situate the works in these fields of inquiry.
Legendary Feminist icon and artist Carolee Schneeman has long recognized the aesthetic behavior and self-integrated gaze of the feline. Here she offers images of paintings made by Kitch in 1957 and 1967, a photograph taken by Vesper in 1998, and premieres new assemblage, scatter, and toilet paper interventions by La Nina.
Other cat-produced works on display emanate from the collective in residency at the Center for Feline Studies: Cat, Ezmerelda, Mimi, Prima, Duetta, Quattrina, Cinquella, and Raul. CFS is a research facility initiated and operated under the auspices of Ananya Mukherjea and Jeffrey Bussolini. Here cats are studied in situ as they engage each other, their human subjects and the domestic environment. Observation has demonstrated felines taking part in processes of ordering, disordering, marking, and interaction that profoundly alter the lived environment and indicate intention, aesthetics, and gesture.
Mukherjea is a sociologist and gender studies scholar who has a long interest in human-animal interactions. She researches urban ecology, environmentalism, and infectious disease epidemics

Bussolini is a noted translator of continental Philosophical Ethologists, instrumental in introducing to the English speaking world the work of Dominique Lestel, Vinciane Despret and Roberto Marchesini.

The collection of portraits by Siobhan Meow, Samoa Moriki and Rose McShane represent a human/feline collaboration wherein the cats, as autonomous sitters, actively engage in interaction and social dialogue with the painter that forges the images we see. In this sense the paintings are the marked records of a material engagement in time, space, and affect in which the cats entrust the painters with the transmission of their unique personality and life experience.

Siobhan Meow is one of the original squatters of Umbrella House and still part of that vibrant social and political collective in the East Village. She has long and deep social roots with feline-kind and has a sustained artistic practice centering on collaboration with and depiction of cats.

Samoa Moriki is a Japanese born American outsider artist, Lower East Side punk musician and performance artist and co-founder and guitarist of The Voluptuous Horror of Karen Black.

Rose McShane is a Cooper Union trained painter who turns a deeply social eye to animal portraiture, seeking to come to know the sitting subject and portray their unique personality and character as an interactive dialogue.

Chase Chivers, whose landscape photo here is the contemplative focus of Quattrina, is a skateboarder, painter and photographer. An East Village habitué recently relocated to London, his exhibits include solo shows at Ed. Varie and Adjacent To Life.

CatArt: Feline Aesthetic Ethology runs through July 1 and is on view at the Adjacent to Life pop-up gallery housed in Ninth Street Espresso (341 E. 10th Street at Ave B, New York City). The opening reception is Friday June 3, 6-8 pm and continuing offsite.


Posted by Shark Roth at May 28, 2016 08:57 AM