Stele at Adjacent To Life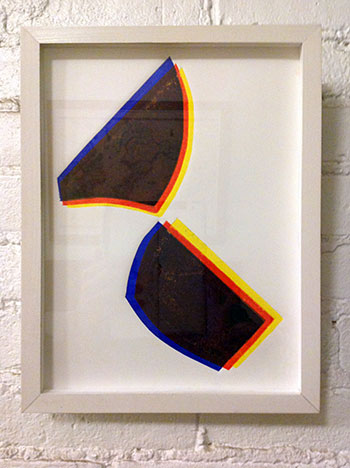 Tinsquo's curatorial project, Adjacent To Life, presents Stele: Monotypes by K.J. Schumacher.
With the series Stele, Nashville artist K.J Schumacher has generated monotypes (oil printing on Rives paper) from broken and discarded acrylic plates retrieved from the print shop at the school where he taught for seven years.
In dialogue with the formal concerns of 1950's New York School abstraction and the Minimalism that followed, he explains:
"I'm using a primary color scheme and slightly offsetting subsequent prints to build the image and produce a more three dimensional effect, underscoring the objectification of the acrylic plates. I make a distinction with these works; this is not using the plates to make a mark, rather it is using ink to record the found objects (plates). I also chose primary colors to underscore the notion of "building an image" as a way to refer back to my teaching studio."
Stele: Monotypes by K.J. Schumacher runs through February 19 and is on view at the Adjacent to Life pop-up gallery housed in Ninth Street Espresso (341 E. 10th Street at Ave B, New York City).
image: K.J. Schumacher, Stele, oil based ink on paper, 12" x 9"
Posted by Mark Roth at January 16, 2016 10:27 PM