Defiant Flowers at Adjacent To Life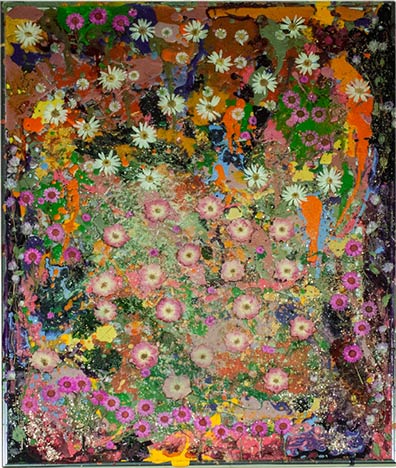 Tinsquo's curatorial project, Adjacent To Life, presents Defiant Flowers: Paintings by Stacy Harshman.
East Village artist Stacy Harshman paints ecstatic emanations that mirror the generative processes of nature.
While her method of gestural improvisation parallels that of the New York School Abstract-Expressionists, she complements the ponderous swagger of those earlier painters by embracing delicacy and the unapologetic pursuit of beauty as a value unto itself.
The incorporation of literal blossoms acknowledges that it "takes a lot of guts to be a flower." To stand on display, freely offering beauty to all is a defiant show of confidence and strength, and an advocacy for the greater good.
Defiant Flowers runs through August 29 at the Adjacent to Life pop-up gallery housed in Ninth Street Espresso (341 E. 10th Street at Ave B, NYC).
image: Stacy Harshman, collage, encaustic wax, paint, sand, mica powders, flowers, seeds and minerals on framed glass, 28" x 24"
Posted by Mark Roth at July 19, 2014 03:01 AM