Efflorescence at Adjacent To Life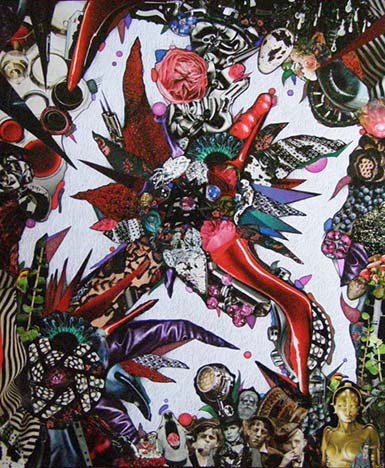 Tinsquo's curatorial project, Adjacent To Life, presents Efflorescence: The Collages of Kennyray Scallon.
East Village collage artist and graphic designer Kennyray Scallon redeploys the familiar imagery of our mediated environment to create a personal vision of a teeming world of ever-transmuting possibility. The environment depicted might be regarded as a synaptic landscape, a neural net that reveals a thought in the process of becoming.
Scallon works in an organic, intuitive manner. Images emerge like a flower unfolding. As in nature, the process is fractal, generating worlds within worlds, thoughts within thoughts until they attain the fullness of manifestation.
Efflorescence runs through July 18 at the Adjacent to Life pop-up gallery housed in Ninth Street Espresso (341 E. 10th Street at Ave B, NYC).
image: Kennyray Scallon, Diamond Dogs, collage, colored pencil and ink on board, 20" x 16"
Posted by Mark Roth at June 13, 2014 11:56 PM