In Retrospect at Adjacent to Life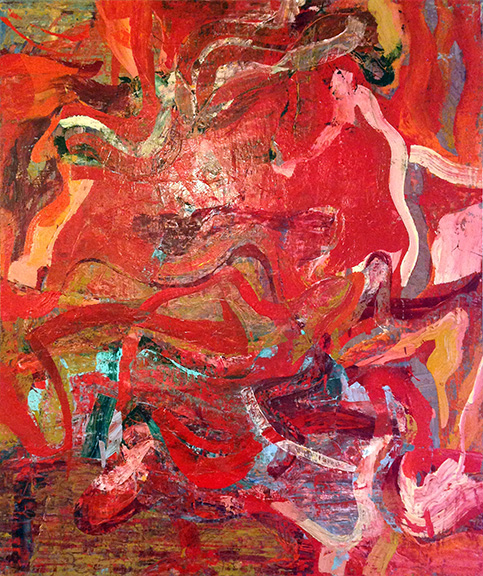 Fibonacci, oil on canvas, 48" x 40"
Picasso is said to have explained that he'd sometimes leave a painting unfinished in the corner of the studio. Weeks, months or even years later, he'd unearth that canvas to discover it magically resolved, as if on its own.
The paintings displayed here reflect a similar dynamic. While I've always considered them resolved, a critical transformation has occurred during the many years since they were archived in my studio.
This aesthetic alchemy is driven by a multi-fold mechanism. Partly, the works stand as irreproducible relics of an aspirant artist in the thrall of the New York School painters. The doors to that former self now closed, they also retroactively connect-the-dots to subsequent evolution.
Picasso might have considered this art of recovery the aesthetics of self-compassion - increased self-acceptance on the part of the painter leads to a tempered critical eye. Could Picasso's tale have been a wink and nod to the retrospective gaze as another tool at the artist's disposal?
In Retrospect: Paintings by Mark Roth runs through April 4 at the Adjacent to Life pop-up gallery housed in Ninth Street Espresso (341 E. 10th Street at Ave B).
Posted by tinsquo at March 4, 2014 05:04 PM