Chicken Portraits at Adjacent to Life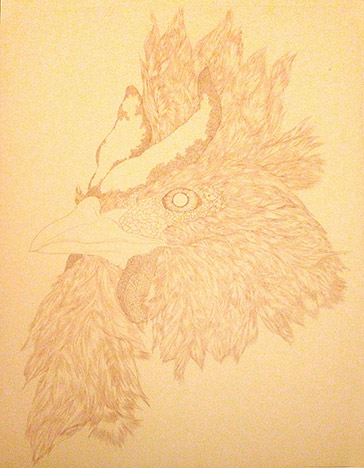 Tinsquo's curatorial project, Adjacent to Life, presents Chicken Portraits: Drawings by Nina Glikshtern.
With meditative focus, Nina Glikshtern confers upon the under-recognized chicken an honor historically reserved for political leaders, royalty and other figures of status. She draws upon her training as a medical illustrator to craft intricate, accurate portraits of heritage breed chickens.
It's a measure of respect appropriate for a creature that is heir to the dinosaurs and integral to the development and functioning of civilization.
The show runs through January 24 at Adjacent to Life's current pop-up gallery, housed in Ninth Street Espresso (341 E. 10th Street at Ave B).
image: Nina Glikshtern, Old English Game Bantam, 30" x 22" ink on paper
Posted by Mark Roth at December 7, 2013 02:37 AM