Artists in Resonance at Adjacent to Life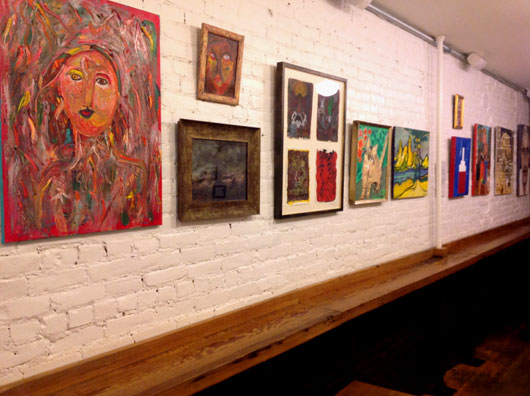 Tinsquo's curatorial project, Adjacent to Life, presents Artists in Resonance: The Paintings of 137ac.
137ac is a collective of people who have taken license to paint as if it can heal them.
They are self-taught artists who have known each other for the past decade. In a studio on West 14th Street, they inspire and challenge each other to fully develop their skills.
"These are people whose primary language is art," says Annatina Miescher MD, founder of a non-profit building support for the collective.
Each participant in 137ac has had to confront profound challenges in life, born of biography, identity, economic privation or behavioral health issues.
For this reason the collective's work is often framed as outsider art. But given the accomplishment evident in the respective visions expressed in Artists in Resonance, it's clear these artists are practiced at inhabiting process. It could be argued these are the works of insider artists - living inside Art - in its promise and authenticity.
This is their fourth show.
In 2012, Bjarne Melgaard created collaborative paintings with 137ac for his exhibition A House to Die In at The Institute of Contemporary Arts, London. He has also curated their work for shows at Ramiken Crucible, NYC and a pop up gallery in Chelsea, Dans Ma Chambre.
The show runs through November 1 at Adjacent to Life's current pop-up gallery, housed in Ninth Street Espresso (341 E. 10th Street at Ave B).
Posted by Mark Roth at October 1, 2013 02:44 AM