Righteous Gangsters at Adjacent to Life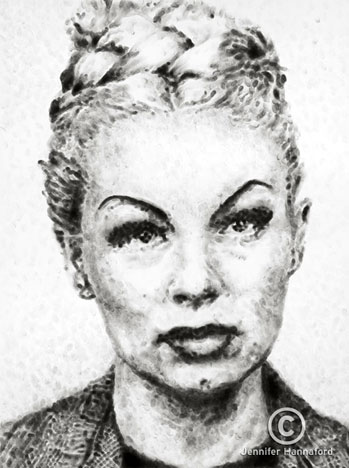 Tinsquo's curatorial project, Adjacent To Life, presents Righteous Gangsters: The Fingerprint Art of Jennifer Hannaford.
Hannaford's production includes a wide range of subjects (her friends in the Bureau are partial to the John Dillinger part of the spectrum). But it is the equalizing humanity of the mugshot that ultimately fascinates Hannaford. As she says, mugshots
"capture the individual in a most vulnerable moment, unscripted and beyond choice. While these images are necessary for documentation for criminal records, they reveal more. An entire range of unmasked emotions is accessible. Some images depict the individual not wanting to be arrested and booked for their actions, while others depict one taking that risk to make a statement."
An artist's gestures and method of paint-handling constitute a kind of signature. Hannaford literalizes this evidence of the artist's hand in a way that would hold up in court – by using her own fingerprint.
She has a Masters in Forensic Science and has processed crime scenes and conducted latent print comparisons for the Oakland Police Department, the State of Vermont, the City of Boston, New York and other agencies throughout the country.
Righteous Gangsters presents a selection of individuals whose entanglement with the law raise issues of conscience, artistic freedom and the obsession with celebrity. Lenny Bruce and Lili St. Cyr ran afoul of the law in pursuit of creative expression, Civil Rights Freedom Rider Margaret Leonard was fighting for justice and Jim Morrison could be viewed as having being arrested for the crime of being famous.
By definition of her professional responsibilities, Hannaford brings a level of attention to the environment that enables her to see things that elude most of us. This is at play in her use of the fingerprint as drawing tool – it allows her to highlight and "explore the blur between the easily discernible and the nearly invisible."
Assuring due process, she is the master of the positive ID.
The show, Righteous Gangsters: The Fingerprint Art of Jennifer Hannaford resides at the Adjacent to Life pop-up gallery housed in Ninth Street Espresso (341 E. 10th Street at Ave B).
image: by Jennifer Hannaford, Lili St. Cyr, 40" x 30" archival print, edition of 25.
Posted by Mark Roth at June 1, 2013 02:02 PM