Chips By Rose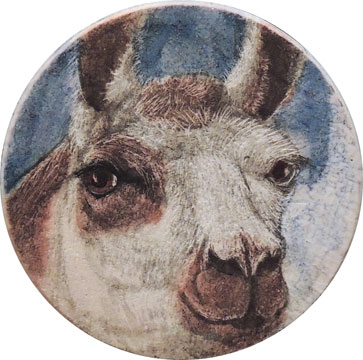 Adjacent to Life, Tinsquo's curatorial project presents Chips By Rose: Paintings by Rose McShane.
Using ink and an etching scribe, Rose McShane lovingly paints magnifying glass-worthy portraits of animals on vintage clay poker chips.
Each of the individuals in Rose's ever expanding animal registry greet the viewer with eyes that glint with humanity. In Rose's world the attributes of "humanity" – feeling waves of joy, the pursuit of curiosity, awe, the urgency to love, feeling empathy and grief – are not species-specific but a source of commonality across the entire fauna spectrum.
McShane was trained as a fine art printmaker and spent a career as an industrial printer. When changes in the industry devastated her field of employ she turned to her own inner, inexhaustible resources and began painting these chips. Selling at flea markets, street fairs and online, she has created for herself a second career born of her passion for art and the animals she loves.
The installation resides at the pop-up gallery, Adjacent to Life, currently housed at Ninth Street Espresso (341 E. 10th Street at Ave B). Drop by for some heartfelt espresso with art to match. It's on view through January 11.
image: Lama, 1.5" diameter, ink and dye on vintage clay poker chip.
Posted by mark at November 30, 2012 07:04 PM