Noise Riot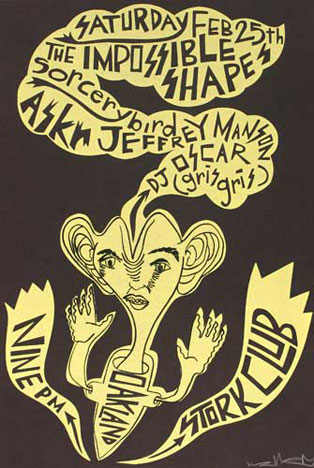 Adjacent to Life, Tinsquo's curatorial project, presents Noise Riot: The Gig Posters of Matthew Hart.
Durham-based printmaker Hart creates handcrafted, limited edition rock posters that reflect an idiosyncratic aesthetic of the grotesque. "Noise Riot" presents works made between 2002-2006 for the North Carolina clubs: the Nightlight, the Cave, the Cat's Cradle, Hell & the Local 506, as well as San Francisco's legendary Bottom of the Hill. These scenes nurtured such notable artists as Deerhoof, Felt Battery, Hale Zukas, the Hospitals, Megafaun, Peaking Lights, VHOLTZ, XBXRX & the Yellow Swans.
Rabidly collected by enthusiasts of the era, Matt's prints retain their iconic status as emblems of a noise riot whose feedback now reverberates across the nation.
The installation resides at the pop-up gallery, Adjacent to Life, currently housed at Ninth Street Espresso (341 E. 10th Street at Ave B). Drop by for some rockin' espresso with art to match. It's on view through September 21.
image: Impossible Shapes, limited edition screen print.
Posted by mark at August 13, 2012 11:49 PM