Swamp Bobbin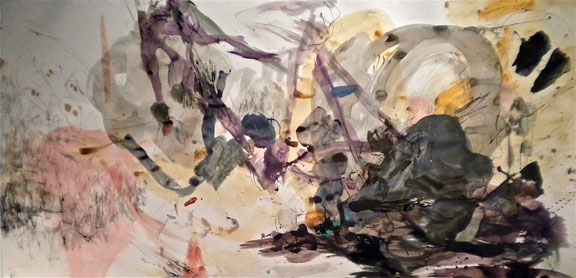 Tread, Rachel Taylor, mixed media on paper, 40" x 83"
The latest installment of our new curatorial project, the pop-up gallery Adjacent to Life, presents paintings by Rachel Taylor.
With expansive spills and unforced accidents of ink, coffee, paint and other ephemera, Rachel depicts the fluidity of life's processes and the impermanence of description.
Swamp Bobbin resides in the pop-up gallery, Adjacent to Life, currently housed at Ninth Street Espresso (341 E. 10th Street at Ave B: 10B to regulars). Drop by for some essential espresso with art to match. It's on view through May 11.
For more on Taylorís work and the curatorial project visit Adjacent to Life, the blog ("follow" and "like" us on Tumblr).
Posted by mark at March 23, 2012 12:57 AM