Tribeca Tornadoes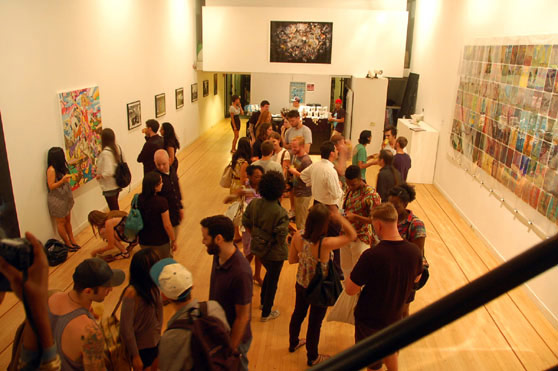 the calm before the storm. photo credit: ulysses pizarro, janna olson
Huge thanks to Cubic Zirconia and Nick Hook for a great Tribeca pop-up show! Tuesday night just over 200 people funneled into Damon Dash's DD172 gallery/performance space which, tonight, is host to the launch of "Joyride," the 10th Anniversary Bicycle Film Festival.

CZ tore it up down under while the art above ground peaked the atmospheric charge - Julian Gilbert's photos from the road, Ulysses Pizarro's Inner City Avant Garde street art and TINSQUO's own Joan of Arc Riding My Little Pony debuting with the 7-month Tornado Series. Everybody pulsing to Vin Sol beats and the gale force, live debut of Black & Blue navigated the aftermath with dizzied smiles.
Props, too, to Sammy for tech assistance and general coolness.
Hear CZ on iTunes! See more snaps at this feature on HiFiCARTEL!
Posted by janna at June 17, 2010 04:47 PM