"memory_bust"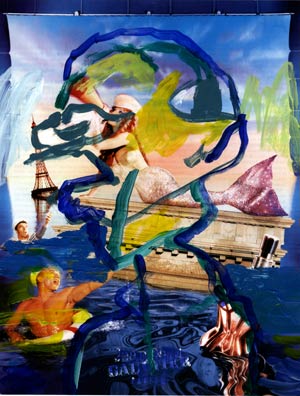 acrylic on magazine paper
The political and military figures adorning London's Trafalgar square are currently joined by a sculpture of another sort. Marc Quinn's "Alison Lapper Pregnant" is the Fourth Plinth project's newest commission.
Alison Lapper, an artist herself, was born severely physically disabled. Sculptor Quinn has this to say about her image commingling with the others on the square:
"In the past, heroes such as Nelson conquered the outside world. Now it seems to me they conquer their own circumstances and the prejudices of others, and I believe that Alison's portrait will symbolize this."
Quinn, Lapper and the Fourth Plinth Commissioning Group have staged an all-out Beauty Conquest - expanding the realm of what constitutes a recognizably beautiful being.
Posted by mark at September 27, 2005 02:06 AM