Tinsquo's First Anniversary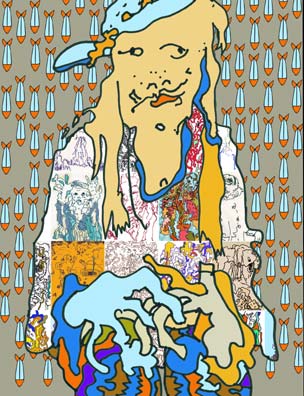 ink on paper in digital environment
Yup, today it's official.
In an eerie foreshadowing of this Simpsons episode, political cartoonist and Dayton hometown hero, Mike Peters, once addressed the entire student body of my high school. He made three points that have stuck with me: The first, how to draw a quick, evocative caricature of Nixon (still useful); Second, the ladder of success for a political cartoonist consists of one rung - getting hired by a newspaper as their resident editorial cartoonist. It's the equivalent of winning an Oscar and day one on the job IS the pinnacle of success. Third, to syndicate a daily comic, one has to have six weeks' worth of strips in order to prove the sustainability of the idea.
This last point was much on my mind when I first envisioned tinsquo. Launching the site a year ago today, I had in reserve at least a years' worth of possible daily entries. My biggest fear was a prolonged dry patch leading to the all too frequent blog fate: interminable hiatus.
In practice, the site has lived up to my most optimistic hopes, serving not as a burden but as an instigator of more consistent productivity and risk taking. So far, I've never had to dip into the backlog and the site has been an accurate reflection of the forward edge of my investigation or as the "oh so official" about page puts it: an open ended, realtime performance of one painter's process.
There is an aphorism among artists that their most recent work is their favorite. I'm no different in this regard. Today, however, seems an appropriate moment for a quick recap of tinsquo's freshmen highlights.
Pictured above is the work that started it all, "studio assistant," the long sought computer composition that triggered emotional and aesthetic responses comparable to that of a traditional (paint) painting. I completed it on Easter day, April 20, 2003. For some of the other digitally constructed paintings that remain close to my heart for the breakthroughs they represent see: "compunctuated equilibrium," "tacit approval," "the industrial twilight" and "secondleg_xenograft."
The ongoing body of work I call "magazine paintings" began the year as abstractions and ended it populated by personages of origins unknown (even to me) melding with their environment. See: "death_glimpse_howdy," "beside_racket_court," "poor-revenuer" and "general_gimcrackery_paralysis."
On election day, the site received a huge spike in traffic but, like many people, I felt speechless for days. I posted "returning wounded (study)," a painting, several weeks in the making, that was pulled to resolution by the tenor of the moment as if by a strange attractor.
The site received its highest traffic of 2004 upon the posting of "Show and Share, Part 2." This collaborative project with a class of four and five year olds was a major thrill. I hope to undertake similar projects in the future. (If you find yourself inclined and in a position to make said happen, by all means, let's talk).
On a frigid night in January, monologuist, Spalding Gray, went missing. A longtime inspiration, I did my best to do honor to his memory in this piece.
April 24 represented the 100th anniversary of Willem de Kooning's birth. The Gagosian gallery celebrated the event with a spectacular museum quality exhibition. In a life wherein I've spent literally hundreds of hours looking at his paintings, the occasion inspired me to draw together the myriad thoughts I'd long been germinating about the great painter's controversial late work.
The passing of Titans demanded an homage to Titans-in-the-making: John Currin at the Whitney.
All in all, a pretty good inaugural year at tinsquo.
The public projects slated for 2005 are just as collaborator-friendly as "Show and Share" but bold beyond a sophomore's tone. I plan to expand the video offerings and have several major projects in my sights. So, if epic iteration of an organic nature, virtual memorials spanning the scope of human history or NYC Sphinxs far beyond Macy's Parade scale excite you, drop me a line to see if you'd enjoy contributing to the process.
As a final note: Last week at a dinner party I was revealed as a blogger. This prompted another guest to recoil in mock horror quizzing, "you'd admit that before God and Man?"
What could I say? That's the only way to do it.
Posted by mark at December 17, 2004 06:57 PM