"piltdown nostalgia"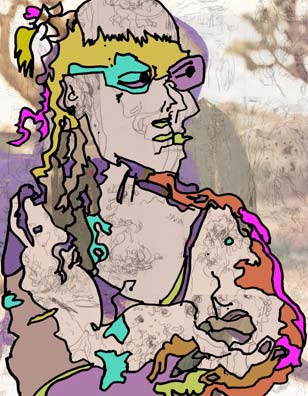 acrylic on magazine paper, pencil and ink in digital environment
As the first Fall chill sweeps Manhattan, I'm still basking in the glow of our cursory survey of L.A.'s gallery scene. We were surprised by the warm receptions we received even in the midst of late August's art-scene-on-vacation atmosphere. There was good work and no shortage of kind assistance in negotiating the far flung gallery enclaves. Thanks to all those who were so generous with their time and knowledge.
Culver City has good work in focused spaces ensconced in stucco and aluminum siding. Blum and Poe's exhibition of Florian Maier-Aichen's subtly and digitally modified landscape photos were the highlight there. But Liz Oliveria's grad student show of lcd shadow boxes and photos, hidden in her delivery-side garage space off S. LaCienega, bore a charge echoing their industrial digs and revealed forthcoming promise.
Anna Helwing's summer group show offered several funky paintings by Lauren Lavitt whose unprescribed paint handling shifts focus of intent from inch to inch across the painting's surface as a means of holding everything together. Very satisfying. Her's seems like a joyful endeavor.
Then, there's the active transformation of Chinatown's Chung King Road into a two block bazaar of galleries - another example of art's capacity to find and utilize under-appreciated environmental niches. As a pedestrian New Yorker, it was right up my alley...(uh, hello, is this mic on?).
Many of the Chinatown galleries were on hiatus for the month. So, I don't presume to make an authoritative declaration on the matter - still, Black Dragon Society, China Art Objects and Peres Projects stand as particularly gratifying enterprises.
Our big event was a tattoo-packed, rollicking opening for Coop at Six Space. Six Space is the gleaming product of Chicago transplants Caryn Coleman and Sean Bonner, who also operate the website, art.blogging.la - a valuable resource for keeping apprised of the LA gallery scene.
Though they came highly recommended, timing and unaccountable vagaries precluded visits to Susanne Vielmetter, White Room and New Image Art (caps off to them for their recent NeckFace show - glad his work is now visible on both sides of the wall). Nonetheless, these and all the galleries above are now included in the gallery links page.
Posted by mark at September 21, 2004 02:43 AM